Jumping Lessons and New Year's Stuff!
Like
Jen talked about the other day
, we just got back from our 5 day - 4 night New Years extravaganza vacation. Every year a group of ten or so college friend get together and rent a house somewhere for New Years. This year it was a renovated 18th Century barn. The thing was pretty awesome.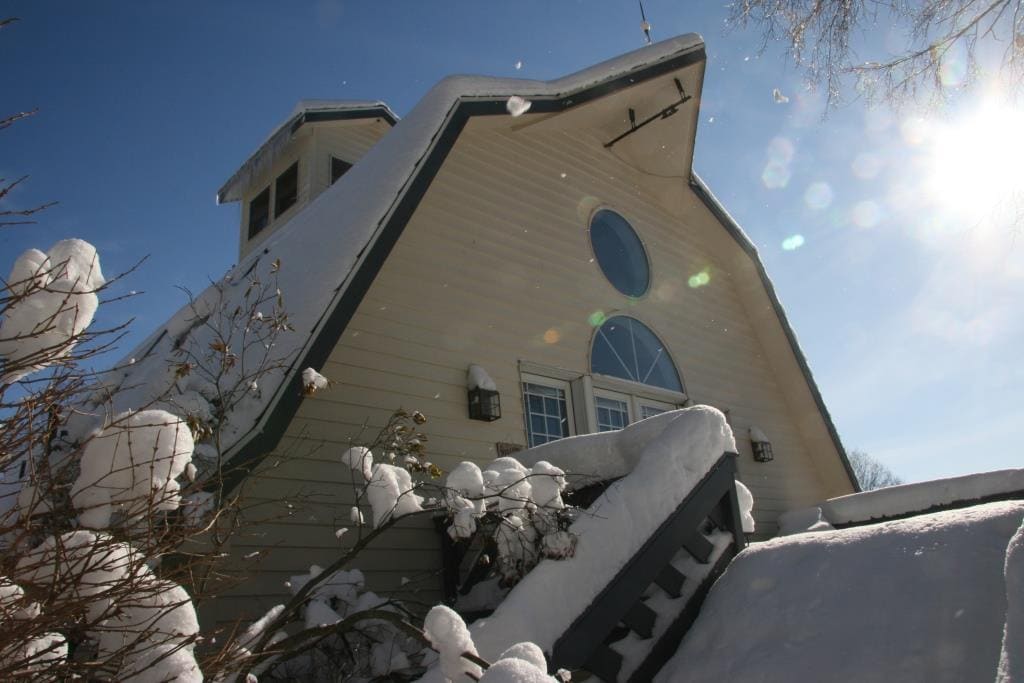 Photo of barn from airbnb.com. There was definitely not that much snow this year!
View from the cupola
I really loved the details that still existed in the old barn, and how super comfy it was renovated as a place to live. It was obvious the owners love the place and actually use, as well as rent, it. That really makes a difference! The owner's were home and made a ton of effort to ensure we enjoyed ourselves. Really wonderful stay!
... Except for being sick. Jen is calling this the year of The Gage Plague. Both my husband and I contracted some kind of terrible respiratory cold over Christmas, and managed to spread it to Jen and her husband. Sorry guys! Some day we'll all recover. Until then, I'm snarfing down water and mucinex like it's my job. This illness is seriously the worst. It's been a week, and I don't think I'll ever recover.
Luckily, I wasn't feeling so sick on the vacation that I couldn't join Jen for a lesson at
Pleasant Heights Stable
with trainer
Jill Fagan
. Jill put me up on an ancient bay TB with iffy hocks. Despite his rocking horse style gimp at all gaits and hocks that drew circles when they moved, he was a solid lesson horse who clearly knew and loved his job.
The flat part of the lesson was pretty simple, with Jill working hard to get me taking more weight in my heels and closing my hip angle. Apparently all that dressage work actually HAS opened my hip angle, despite what I may feel when working on more collected movements! Riding my trainer's horses as well as more at my barn has made me more comfortable adjusting to a new horse, and I enjoyed how this TB was very solid in the contact and willing to take it if I was consistent.
Jumping is where the lesson really got fun. The old TB clearly loves jumping, and perked up over fences. It's obvious his hock issues make waiting for the fences difficult, so he's developed a bit of a strong and rushing approach to the fences, complete with rocketship-style launch over everything. Getting him to wait for the striding felt nearly impossible.
Luckily, Jill's instruction was on point and she was able to get me putting more weight in my heels over each fence, reducing the amount of knee pinching I was doing to compensate. That helped to keep me more balanced and effective on top of my rushy horse.
Jill did complement my upper body position, remarking that my time doing dressage has really solidified my upper body. I'm happy to hear that, as rounding my shoulders and jumping ahead used to be some of my worst jumping faults!
Overall, the lesson was great fun! The middle of winter was a great time to take a moment and look back at jumping. It's good to know what flaws my dressage seat is putting into my jumping seat. It's so hard to remember to sink deep into my heels and close my hip angle after years of forcing my hips open!
If anyone is in the Northern Indiana/Michigan City area and wants to take a lesson, I highly recommend Jill. And for all you dressage riders and eventers, what sorts of flaws get pulled into your jumping seat from your dressage seat, and vice versa?